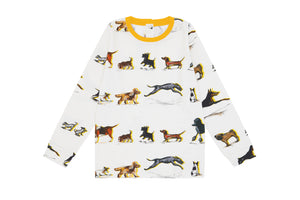 Dog family print LS Shirts organic cotton by vild
This long sleeve shirt is designed with the limited edition Vild Lab No.9 - Dog Family Print.  Dog Family celebrates the new and true meaning of 'family', the joy of the contemporary chosen pack and loyal bonds that last a lifetime.
The shirt is made from GOTS Certified organic cotton fabric of the highest quality, that is incredibly soft on the skin.
- 95% Organic Cotton, 5% Elastane
- Full Oeko-Tex Certification
The short sleeve shirt is created to allow for a stylish, relaxed look.  The neckline back snappers are designed for easy slip-on over the head.